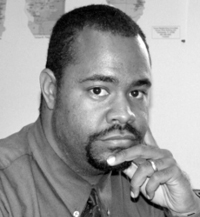 Shamako Noble of the Hip Hop Congress interviews Alphonso Mayfield, President of the Florida Public Services Union.
Hip Hop Congress:  You've mentioned the concept of economic democracy. What does it mean to you and how is it important to the future of unions and the social movement?
Alphonso Mayfield: To me, economic democracy is about two core principles: opportunity and reinvestment.  All communities should have the ability to give input into the decision making that directly benefits their daily lives. The current political process can be extremely convoluted and is in some ways intentionally muddied to not address the real issues.  You combine that with the probability of issues to become politically polarized and different groups being marginalized for various reasons.
We live in a society that is shifting politically, economically, socially and environmentally.  If I were to ask you to clearly describe where we would be in ten years as a nation and as a planet you couldn't.  The next ten years will be potentially the most turbulent in our history.  Would we consider an economy where the status quo is making $7 an hour a bright future? It is hard to raise a family and build a future under those conditions.  It is important for not only unions, but also all civil society groups to push for jobs that pay a real livable wage.
HHC:  Do you have an example?
AM: As a nation we are transitioning from an industrial economy to a more service-based economy.  In the next 20 years there will be more people employed part-time than full-time. From one perspective it means that when kids graduate from high school and college the type and quality of jobs will be extremely diminished. The type of job that my father, my mother and to a lesser extent I need, to raise a family and retire, is disappearing.  Currently, there is no real alternative presented and things are getting worse.
HHC:  As a labor leader and past cultural worker, what are your thoughts on the power and the use of culture in social movements, and how can we begin to use it more effectively?
AM: I think, the progressive left has often taken the Hip Hop community for granted. In the same breath, I would say that the Hip Hop community has been extremely ineffective in using its base and capital to ensure outcomes that better benefit our interests. Shamako, if you remember, the 2004 Hip Hop Congress was a leader in grassroots organizing trying to galvanize voters around the importance of collective action. Our mistake is that many organizations in Hip Hop, including ours, in good faith, let other organizations pimp us and other allies. These shell groups got millions and reinvested none of it. The monies got pocketed and our people were ill served. I would like to think we are older and wiser now, but that's just one example. Hip Hop is a $10 billion enterprise.  Artists often get manipulated and used for their work. In large part it is because we haven't used our collective bargaining power in a way that creates a market that we own, operate, profit and reinvest from. That needs to be changed.