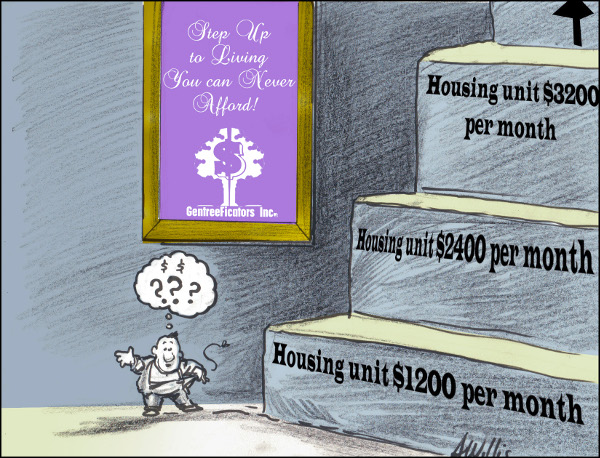 The city of Detroit recently announced it will begin foreclosure on nearly 30,000 tax delinquent homes. It is believed that 100,000 people could be affected.
Around the same time, it was reported in the news that a landlord in San Francisco charges $3,000 per month rent for a sleeping space in bunk beds that come with commonly shared kitchens and bathrooms.
These examples represent the process of gentrification, the tip of an iceberg of a housing crisis that is sweeping the country. At the basis of that crisis is the fact that housing is connected to jobs and jobs are connected to the tools used in production. Today's tools are the computer and the robot.
It is a common characteristic of all human societies, past and present, that we organize around our tools. As long as those tools were of the industrial manufacturing type, a huge, literate, somewhat educated working class was required to wield those tools. The relatively stable neighborhoods and communities in and around the large urban areas where industrial manufacturing was based is, in the main, where those industrial workers lived.
Over a period of decades, high-tech automated tools began replacing industrial manufacturing tools, and along with them the industrial worker. Service jobs with their low pay and fewer hours proved a poor substitute, especially for those locked into 30-year mortgages. Now, the electronics revolution has spread to all sectors of the economy, and threatens the entire concept of a job to go the way of the dinosaur. From the standpoint of the ruling class, there is no need for workers it has made permanently unemployed, destitute and homeless, and therefore no need for them to be housed.
Under capitalism, a community without jobs is a community targeted for extinction. Only those with money will be allowed. It is no accident that safety net governmental programs of the past era like public housing are also being severely cut back or diverted toward privatization.  As Sean Donovan, a former Secretary of HUD (Housing and Urban Development) put it to a group of public housing residents at a meeting in Washington D.C., "We are going to save public housing by making it private."
And so it is under these conditions that the former industrial worker faces homelessness, destitution, dispossession and early death on the streets while there are more than enough empty homes that would literally save their lives.
If humanity faces a future society where human labor is replaced by machines, then money must be replaced by the currency of human need. A society is needed where the abundance the new technology produces is distributed based on people's need, instead of money.
As a first step toward that new society, the government must turn over the hundreds of thousands of government-owned foreclosed homes to those who need them, instead of to private investors who use them to make money.