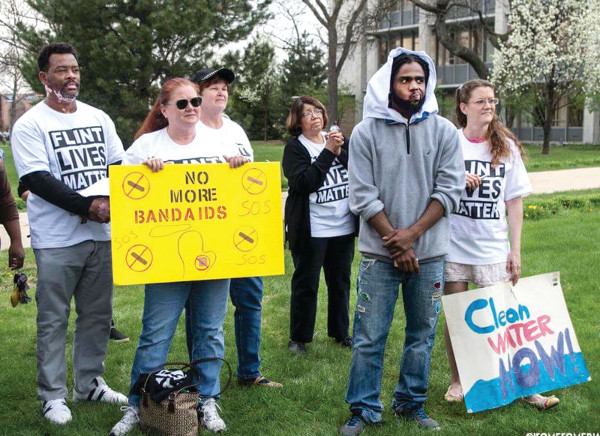 Editor's Note: The following is a portion of Aaron Stinson's testimony at the "Two Years Too Long" commemoration rally of the Flint River water poisoning in Flint, MI.  Arron is 39-years-old and had the largest recorded level of lead in Genesee County, MI.
My name is Aaron Stinson for all you that don't know me or may have not seen me. I have the highest lead level recorded in Genesee County. I was tested February 7 and I came in with a lead level of 27. I was retested in March; my blood lead level is 19.1.
I've done interviews with all of the local television stations, CNN; they even asked me to come down to the democratic debate and ask three questions on behalf of the people of Flint, as far as how we feel about the water situation. I emailed my questions that were asked on the air.
What concerns me about the whole situation… we're being told that we can bathe in the water, we're being told that we can still drink the water, it's safe to consume, we're still having people getting sick, we're still having people not getting tested, we still don't have the full support… people, we need to spread the word. I'm not going to sit up here and scream at you and talk your ears off. Please share what you know. I'm standing up here looking like a healthy, young, Black male. I'm sick people. Lead is in my body. I don't know how it's going to affect me. My healthcare providers are not helping me medically. They're not helping me in any way.