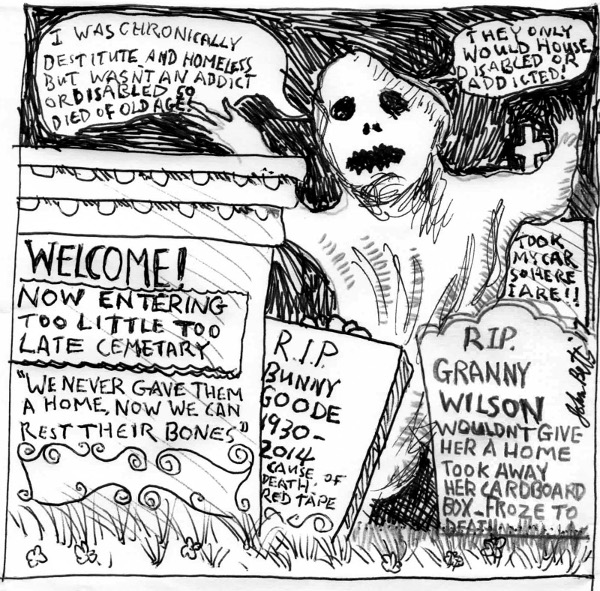 SAN JOSE, CA —I first ended up homeless when I had to move out of an elderly man's house who allowed me to live there in exchange for ten hours of work a week. I was a live-in handyman, doing chores, repairs, and driving him around. This started about 2008. Then I met my girlfriend, who had housing, but lost it because of issues she was dealing with due to her daughter's health problems. She had to start car-dwelling at about the same time I did, so together we learned the ropes of homelessness, and found out how little help there was for people like us.
The biggest problem with car dwelling in those days was to not have it show that you were sleeping in your car. I had a couple of windshield sunscreens I put up, but my girlfriend figured out that having a car cover to put over the car at night was better. Then you just climb in under the cover, and no one suspects anything.  The other problem we had were mechanical breakdowns, and police towed our cars away for being abandoned, without ever posting a 72-hour notice.
We heard about a few housing places that only take a third of your income, but never seemed to find them. We would get on waiting lists of various low-income housing, but then when they have an opening, they require you to pay $30 per person for a background check. Each different facility refuses to accept a background check you already have from somewhere else, even when it's only a month old. And if the place changes ownership, they won't honor a background check you got there from its previous owners.
We've also been told about a housing place program called Housing 1000, which is supposed to assess the most chronically homeless people and give them housing for a third of your income. We have been on it for years but never hear anything.
Currently the City of Mountain View allowed vehicle camping because of the desperate need for people who can't afford the horrible rent in Silicon Valley. There is a several block strip of road by the railroad track, and one side of Rengstorff Park, where about 40 RVs, vans, and a few cars park. We have been parking our van there, and feel that everyone parking there is really nice, and they help each other out. They make a big effort to not leave trash around too.
I have attended some City Council meetings where solutions to housing were discussed, including car camping lots. We keep thinking if cities would build cooperative living places for the homeless and near-homeless population, everything would be way better! That is how many people lived around here until the "me generation" mentality took over some years back.