OAKLAND, CA —A homeless technology worker living in his van in a parking lot. A 17-year-old high school student afraid climate change won't let her live to have children of her own. A husband snatched by Immigration and Customs Enforcement (ICE), leaving his wife and four children without income. A demand to outlaw landlords and make housing free.
Those were just a few of the painful travesties described at a mid-May "Poor People's Hearing" sponsored in the shadow of Silicon Valley's billionaires by the Laney College chapter of the new Poor People's Campaign in rapidly gentrifying Oakland, CA. The hearing explored "Housing Education & Healthcare For All with solutions for Poverty & Homelessness."
An audience estimated at 200 heard there are 4,000 homeless students at San Jose State University. A spring 2017 survey found 51.2% of the responding students in the Peralta system of 4 Bay Area community colleges were housing insecure, and 30.2% said they were homeless. People testified they lived in constant fear of not making ends meet because "the state continually decides that our lives are not a priority."
"As an Uber driver I am one catastrophe away from going back to being homeless," said student Amy Marshall.
"We have a capitalist crisis, a system crisis, not a crisis of the people," said teacher Alicia Caballero.
Ethel Long-Scott of the Women's Economic Agenda Project quoted one of the 12 "Fundamental Principles" of the new Poor People's Campaign, being organized in 40 states: "We believe that people should not live in or die from poverty in the richest nation ever to exist. Blaming the poor and claiming that the United States does not have an abundance of resources to overcome poverty are false narratives used to perpetuate economic exploitation, exclusion, and deep inequality."
Prof. Kimberly King said 68% of the estimated 3,000 homeless living on Oakland's streets are black while only 28% of Oakland residents are African American. "Why is Trump saying there's a national emergency on the border and not noticing there's a national emergency in our cities? The government should guarantee housing and a stable life for everyone."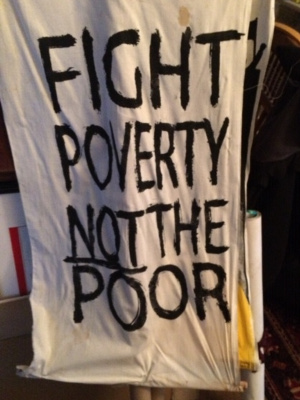 "We have seen that the Industrial Revolution which produced so many good jobs and strong labor unions in the 20th Century is almost dead," Long-Scott said. "We have seen that its replacement, globalization coupled with the digital revolution – robots replacing workers – has changed the way power politics is being played. Workplaces as we have known them are disappearing. Corporations are getting richer and richer with fewer and fewer workers. Elected public officials are increasingly throwing their lot in with what global corporations want, rather than what workers need. This includes stripping entire populations of their democratic rights."
"We want a quality life for our children, said Rachel Harralson from Parent Voices Oakland. "We want safety. We want security. We want the same things Google wants."
The new Poor People's Campaign, co-chaired by Rev. William Barber, is holding hearings nationwide to lift the voices of the disenfranchised and dispossessed in America as part of a national call for a moral revival.