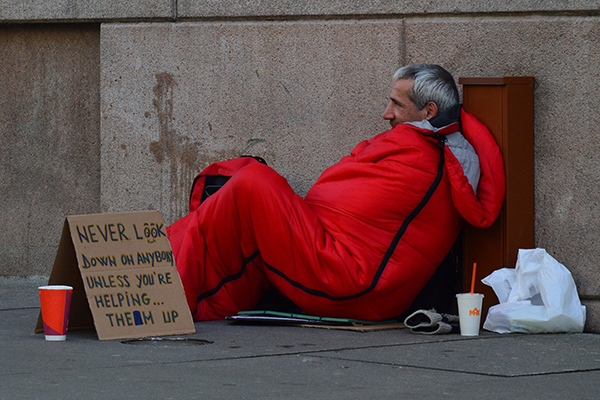 LAS VEGAS, NV — In this past year there have been an unprecedented amount of people awakened to the injustices that our most disenfranchised face on a daily basis.
Each time I step outside my door, I pass the many people tucked into doorways of abandoned buildings like Tetris pieces. I see them wrapped in layers of whatever they have to stay warm, in the winter here in Las Vegas, where the cold in this desert valley has a way of getting into your bones deep in the night. I see new small camps daily as our police conduct early morning sweeps—homelessness now openly punishable by law here. All this, in the shadows of colossal living monuments to capitalism. Inside, the poor get poorer, and outside the cost is sleeping on a piece of cardboard while people with purple oversized drinks step over them.
Growing up in Las Vegas, the first thing you learn is how to lose it all.
Here new shelters are erected, big-money nonprofits launch careers, and like in many other cities the crisis continues to grow. We cannot wait on an elected official, legislation, a cop with a heart, or a hero from the neighborhood who swears they haven't forgotten their roots. It is up to us. We have been asked all our lives to wait, to rely on our government and its institutions while our people are dying. Then we are met with resistance for doing the work of our community, work that others are paid to do but don't.
Here in Las Vegas our community has come together to build Conestoga huts for our houseless, even after our city ignored CDC guidelines by dispersing homeless camps, and bulldozed a camp of 26 huts.
Our community continues to share, prepare and serve food without preconditions. It pooled money together to purchase tents after a day of severe winds recently destroyed many. While the city and the police continue to attempt to inhibit these efforts, our numbers swell, and people become more aware. This is where we ourselves can achieve actual change.
I am with you, wherever you are.