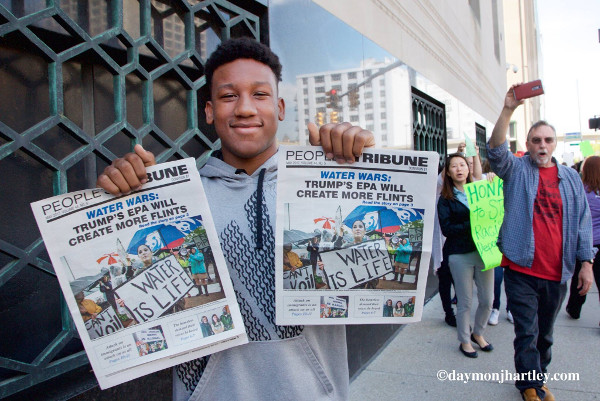 The People's Tribune is a revolutionary press for revolutionary times.
Here we share comments from homeless readers who are struggling every day just to stay alive. They discuss why the People's Tribune it is so important to this fight:
"This paper tells the story of our lives." … "The stories are as diverse as the backgrounds of the people in this circle." … "If our stories are told, people will realize that we are not all criminals and killers." … "How can we get these stories out to more people?" … "When people read these stories, they see that they are not alone. When they realize that they are not alone, they will be unable to put up with the way things are going." … "How can we use this paper to organize a bunch of angry people?"
The People's Tribune annual sub drive in October-November is very important for the paper's continued existence. Please subscribe, renew your subscription and also donate whatever extra you can.
A revolutionary movement is a cause and a press. Help make the People's Tribune the voice of the movement for a new, cooperative society free of poverty and injustice and controlled by the people. Send us articles about your struggle, photographs, and links to things you'd like published online. Give a People's Tribune subscription ($20) as a holiday gift! The People's Tribune gets no grants and has no paid staff. Donate at peoplestribune.org or mail to People's Tribune, P.O. Box 3524, Chicago, IL 60654-3524.