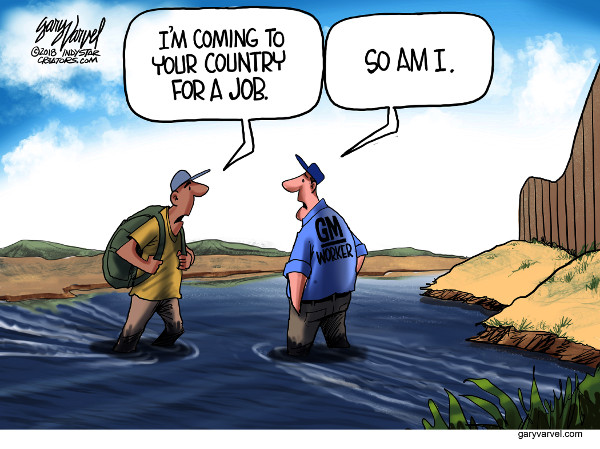 DETROIT, MI — The original Chrysler Corporation was founded in 1925 by Walter Chrysler from the remains of the Maxwell Motor Company.
As of May 11, 2015, Chrysler has 26 factories open around the world.  17 of those factories are in the United States.
As of May 11, 2015, Chrysler has a joint venture in Cairo, Egypt named Arab American Vehicles since 1977. That means that Chrysler owns 49% of Arab American Vehicles which builds Jeep civilian and Military vehicles.
As of May 11, 2015, Chrysler has closed 29 factories around the world.  Nineteen of those factories were in the United States.
As of May 11, 2015, Chrysler has 5 factories open in Mexico.  
From List of Chrysler factories, Wikipedia
Chrysler, like GM and Ford, is a global entity just like the rest of the auto industry around the world. All of Chrysler's factories are owned by Chrysler. They can build a factory or close a factory when ever they want and where ever they want.
The autoworkers around the world do not own the factory they work in or the vehicles they build. They have to go into debt to buy them from the company just like the non-autoworker. Or they could just walk to work or take a bus to work and make pickup trucks, SUVs or cars and walk home or take a bus home.
On February 26, 2019, Chrysler announced that it would convert a closed engine plant and convert an open engine plant on Detroit's southeast side next to its Jefferson North where pickup trucks and Jeep SUVs are built. It will also upgrade the Jefferson North plant. All of this will cost 4.5 billion dollars.
On the next day, February 27, Chrysler announced that it was laying off 1371 autoworkers by running its' Belvidere Assembly plant near Chicago, IL on two shifts instead of three. The Jeep Cherokee is built there. Experience tells me that means they are going to replace that plant when upgrades to Jefferson North and the new Chrysler plant planned in Detroit are completed.
A sideline story is that Detroit billionaire Matty Moroun owns some of the land that Chrysler wants to build the new plant on. The community members in the area say that Chrysler wants the city to drive them out, once again using eminent domain. They do not exist in Chrysler's eyes.
I can only say that we must support autoworkers, whether in the United States or in Mexico and the autoworkers need to support one another around the world. Workers everywhere want to be able to provide for their families. They do not want to see their lives or communities destroyed.  It is the same situation for all of us.