Why can't HealthCare be Free in America ?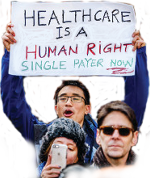 In America health care has become a profit-making $3.2 trillion-a-year business, and you will be allowed to die if you don't have insurance or money. It's estimated some 45,000 people die every year in America because they lack health insurance.
Health care is a human right, and should be available to everyone who lives in our country. Health care can be a for-profit commodity, or it can be a human right, but it can't be both.