Democracy in Baltimore is being replaced by a Police State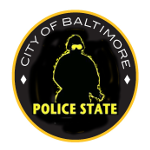 The billionaire ruling class has made several changes to lessen democracy in Baltimore and increase rule by a new form of police terror. 
Fascism is much more than the Neo Nazis. It is the corporate/military takeover of government and the destruction of our democracy. The old police terror found in the back of a police van is decried while a new police terror is implemented with little knowledge or discussion.  This is done with tax dollars and private capitalist grants.
This police state is for each of us, whether you protest Freddy Grey's death, the pollution of the Bay, fracking or poor education, a system to deny your rights is being created.  Now is the time to stop it.